How To Avoid Becoming A Victim Of Business Financial Fraud
Research suggests that the average business loses approximately 5% of its yearly revenue to fraud. Unfortunately, this can be one of the leading reasons why startups collapse before they can get their business going, as well as being a problem for many established companies. As a business, it's critical to stay ahead of your affairs by diagnosing all the loopholes of corporate fraud and having processes in place to ensure healthy accounts. We understand that establishing a functional strategy is easier said than done; it requires commitment from all levels of management in an organisation. Read on for crucial tips on how a business can avoid financial fraud both internally and externally.
What is business fraud?
Business or corporate financial fraud is the act of or intent of misrepresenting actions or services by an individual to cause personal financial gain or loss to the business. It is an unethical act carried out to benefit the perpetrator of the crime and has detrimental financial implications for a company. Business financial fraud manifests itself in a variety of ways but usually revolves around these essential aspects:
Corruption
Asset misappropriation
Misrepresentation of material facts
Loss or injury
Intent to deceive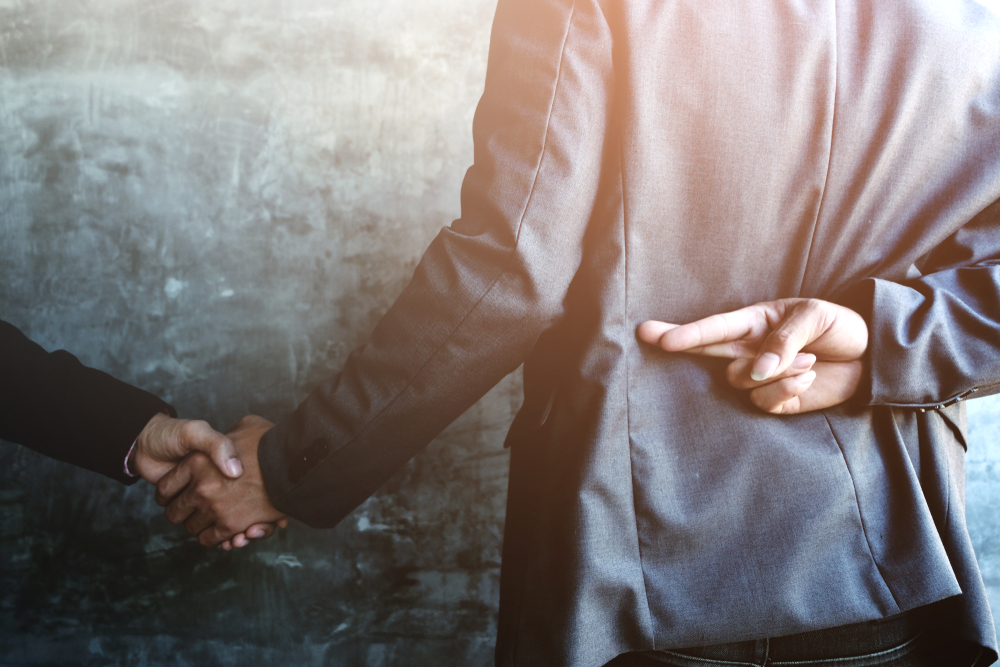 How to avoid being a victim of business fraud
Whilst financial fraud can employ complex strategies and prove challenging to eliminate, there are many things a business can do to significantly reduce the risk of being a victim of financial fraud:
Implement internal controls & procedures
Internal controls refer to plans, processes, systems, and programs that help run, manage, secure, and regulate an organisation's assets and they support and ensure the integrity of a business's financial sanity. Establishing and implementing internal controls enables companies to detect intent to commit fraud and arrest the risk early in advance. Many companies overlook this and often don't have a structured program in place to mitigate these financial risks. If your company doesn't have procedures in place to protect itself from the risk of fraud then it's a good idea to put a plan in place to start the process.
A business can do this by segregating tasks and reviewing documents with essential components of internal controls in place to reduce the probability of fraud. Consistent reviews and updates of the internal controls should also be adopted as part of a company's standard operating procedure to ensure they keep up with new technology, changes in other processes and other related advancements.
Audit your accounts regularly
A business must regularly audit cash, product returns, refunds, inventory management, and other accountancy services to ensure they are always up to date with their finances. Internal audits help determine if the transactions presented by an entity are a true reflection of a business's financial position and operations. Since financial records and practices are usually established internally, they are always prone to manipulation by fraudulent elements in the company.
Implementing regular and sometimes spontaneous audits can help detect fraud and prevent suspicious transactions in critical sectors of the business.
Get expert help
A company may adopt processes to prevent financial fraud, however, if you are still concerned about your business then seek expert advice from a chartered accountant who will support you to put processes in place to protect your business's finances. Hiring a professional accountant to manage your books is worth every penny you spend. An accountant's purpose is to track your business's cash, inventory, and transactions and they will highlight any areas of concern for you so you can make decisions in case of any irregularities.
Professional and qualified accountants will have industry experts who regularly audit your accounts. They will thoroughly examine your books and company control processes and systems using their experience to raise any concerns and advise you of procedures you should put in place. Contact HayvnehurstS Accountancy Services today to find out how we can help you and your business.
Set up a reporting system
Company employees in high-risk fraud sectors should have a clear pathway to report any signs, evidence, or suspicions of possible fraud without feeling concerned. They should be at ease and feel protected when highlighting any concerns. This will be easier when the company has a fraud policy that details the different forms of fraud and repercussions for those who engage in it. In these situations, any employees who are tempted to commit fraud will be deterred when they know there are policies and procedures in place to monitor and manage any fraudulent activities that may occur.
Know your business partners
When agreeing to a partnership with another company or individual, or working with suppliers always do your due diligence so you understand everything you should know about them before signing a contract with them. Trust is critical when forming business relationships, and basic due diligence will help you know what you should do about them. Always do your research, and look at their website and Companies House to see their business history and financials. If you can talk to other businesses that work with them and ask them if they pay when they are required to, how long they have been working with them and generally how they are to work with. All of these checks should include the nature of their business, business address, and how long they have been operating. The same goes when forming a business alliance with new customers and suppliers. Conducting your due diligence using a risk-based approach can save you a lot of time, stress and financial worries. Your accountant will be able to help you understand the checks you carry out before working with them and supplying them with your products or services.
Outsource the payroll
Payroll fraud is one of the most common occurrences of business financial fraud. It happens in various ways, including ghost employees, false expense payments, and timesheet fraud. Unfortunately, this can easily go undetected without the proper procedures in place, resulting in losses to your organisation. However, using an outsourcing company can prevent payroll fraud as they will already have the policies and procedures in place to support your business. This will ensure accurate payroll processing and guarantee that your business is only paying what it should do. It also makes for a cost-effective and efficient way of paying your staff.
Secure your business against cybercrime
As technology advances, cybercrime has become one of the top methods used by financial fraud experts. It involves using technology to hack into company computer systems, and steal personal details such as passwords, and other critical organisational data like credit card numbers to withdraw funds from the business' accounts or bank account details. Cybercrime can also involve online scams focused on identity theft which involve stealing sensitive information using fake websites.
Business technology strategies should be employed to prevent online fraud such as cybercrime, including installing security software and firewalls on all digital devices to prevent hackers. Also, using strong passwords and avoiding suspicious links such as investment scams in emails from unknown sources will go a long way to prevent a data breach of your small businesses.
In Summary
For a business to grow and achieve growth and its goals, financial fraud prevention should be a critical part of its agenda. This is one of the highest risks facing startups and long-standing businesses and a threat that can have a huge impact on a business's survival. By adopting the strategies above and implementing them, whilst utilising the skills and experience of your accountant, businesses can significantly eliminate the danger of financial fraud.
Trusted & Qualified Hayvenhurst Accountancy Services
Our dedicated accountants will get to know you and your business and can help ease this burden and ensure that your financial accounts are accurate and support you to prevent financial fraud internally and externally.
As a chartered accountancy business, our accountants provide more than just a financial snapshot of your business's financial health. We offer strategic guidance and support with policies and procedures to protect your business. We can support you to evaluate your growth opportunities, manage your cash flow effectively, help prevent tax and other forms of fraud, and keep you organised. We can help you to turn your ideas into a thriving business utilising our extensive experience and knowledge.
Our accountancy services help you to keep track of all of your financial transactions, and ensure that your business is operating within its budget as well as being profitable. Making informed decisions about how to allocate your resources and finances will be easier with this information.
In addition to this, our accounting practices can help you identify areas where your business may be losing money.
Whether you are starting a business, or have a small, medium or large existing business we can support you to prevent internal and external financial fraud. Contact us today at 02920 777 756 and one of our team will answer any questions you may have and arrange a time for you to meet face-to-face or over the phone with one of our expert accountants.
You can see our full range of accounting services here.