UK Economy Set for a Bounce Back
UK Economy Set for a Come Back in Spring 2021 Discussed by Hayvenhursts
The Coronavirus pandemic has had a huge impact on peoples lives as well as the UK's Economy. 
Our economy shrank by a record of 9.9% in 2020 due to the Covid restrictions which were put in place to save lives. The Office for National Statistics (ONS) stated that "the reduction was more than twice as much as the previous largest annual fall on record". Our 2020 contraction was steeper than almost any other big economy, however, some countries declined more, including Spain who suffered an 11% decline.
However, despite this our economy looks on track to avoid a double-dip recession as was initially predicted. The economy shrunk by 2.3% in November of last year but grew by 1.2% in December due to some of the UK restrictions being lifted in some parts of the country. 
Overall, this had a positive impact on the results of the last quarter and from October through to December, the economy expanded by 1% overall. This means the first predicted double-dip recession since the 1970s was avoided.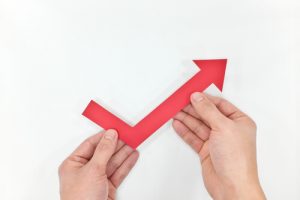 What is a Double-Dip Recession?
A double-dip is when the economy has a brief recovery from a recession but then quickly moves into another recession. 
What is a Recession?
A recession is generally seen as two consecutive quarters where the economy decreases.
What is Gross Domestic Product GDP and Why is it Important?
Gross Domestic Product, also known as GDP is the monetary value of all finished goods and services made within a country during a specific time period. The time period is measured in months, quarters and annually.
GDP provides an economic view of a country and is used to estimate an economy's growth rate and its size which is an important indicator of the economic performance of a country. It can be calculated in 3 ways; using expenditures, production, or incomes.
GDP was first measured in the economic decline after the Second World War. The UK's GDP rate has never previously dropped by more than 4.1% in one year. The Bank of England models and tracks GDP and the 2020 decrease was the worst since 1709. 
With Covid-19 lockdown restrictions expected to remain until at least early spring the economy is set to shrink 4.2% in the first quarter of 2021.
Chancellor Rishi Sunak told the BBC: "Today's figures show that last year our economy experienced a significant shock, and also some signs of resilience over winter.
"You know what's clear is right now, many families and businesses are experiencing hardship. That's why we've put in place a comprehensive plan for jobs to support people through this crisis, and we will set out the next stage of our economic response at our Budget in early March."
Kemar Whyte, the senior economist at the National Institute of Economic and Social Research said, "We anticipate a sharp decline in activity during the first quarter of the year, nevertheless, growth will pick up from the second quarter onwards as restrictions ease on the back of a successful vaccination programme."
As expected the economy stabilised in the last quarter of 2020. But the latest set of statistics confirm the scale of the hit over the whole of last year.
A recession has been avoided due to the last quarter of 2020's growth but it is falling again in the first quarter due to the full national lockdown and restrictions, although it is not being as badly hit as April 2020. There has also been some impact from Brexit teething issues from some trade barriers with the European Union.
Frustrations from businesses who aren't allowed to open are high and people have grown tired from the lockdown limits. It is predicted that when restrictions start to be lifted the UK will be ready to spend their pent up growth which can only have a positive impact on the economy.
The vaccination programme in the UK is going really well and more than 12 million people have now had at least one dose. Widespread vaccination will limit the spread through communities and this means the virus will not infect and make as many people seriously ill. Pfizer and Moderna report that their vaccines show approximately 95% efficacy at preventing both mild and severe symptoms of COVID-19.
The vaccination programme will support the reopening of the UK economy and the speed at which the UK is giving vaccines compared to other countries should unlock our economic growth a lot quicker. The government is under huge pressure to announce when the restrictions will be lifted, however, they are monitoring and analysing the data before they commit to anything. 
The precise timing of the restrictions being lifted is still uncertain and the government remains under huge pressure to provide ongoing financial and economic support to people and businesses.
Economists have said that much of the decline to the UK's economy is due to the impact of the closure of the service and hospitality sector as a result of both the local and national lockdowns.
On a positive note, we have vaccinated far more people than any other European countries and this increases the prospect of an economic bounce-back from spring this year.
The Bank of England's View
The Bank of England's chief economist has predicted that the British economy will surge back from the latest coronavirus lockdown, thanks to the vaccine programme and large amounts of "pent-up financial energy". Writing in the Daily Mail, Andy Haldane said the economy was like a "coiled spring" and that due to the number of vulnerable people who would have been vaccinated, restrictions could be eased so that people were socialising and spending by the summer. Figures released on Friday morning show the UK economy shrank by a record of 9.9% in 2020.
The UK economy is like a "coiled spring" ready to release large amounts of "pent-up financial energy", the Bank of England's chief economist has said.
Andy Haldane said consumer confidence would surge back thanks to the vaccine programme, with the economy firing "on all cylinders" by spring.
He is the latest economist to forecast a sharp rebound in growth after an expected easing of restrictions after the potential shrink of 4.2% in the first quarter of 2021.
Andy Haldane said on Thursday that consumer confidence would surge back thanks to the vaccine programme, with the economy firing "on all cylinders" by spring.
Writing in the Daily Mail, Mr Haldane said: "With 13 million of the most vulnerable people already vaccinated, the risk of death or hospitalisation in the UK has already probably halved.
"By the end of March, based on the current pace of vaccine rollout and government data on vulnerable groups, this risk may have been reduced by as much as three-quarters and by the end of the second quarter it will be even smaller."
Bank economists have said that as a result of the UK's vaccine programme and the supply of vaccines the government has secured health concerns will gradually fall, and restrictions will be lifted, allowing people to return to spending and socialising. Having been restricted for nearly a year, most people are now desperate to get their lives and their social lives back on track to pre Coronavirus pandemic.
The prime minister has committed to setting out a roadmap for relaxing restrictions during the week of 22nd February which will use the data from coronavirus infections, deaths and the vaccine rollout.
Many UK households have strengthened their finances during the lockdowns and will therefore have more money to spend when restrictions are lifted. People haven't been away on holiday or spent money on socialising, so if they have been lucky enough to keep their jobs, or have been furloughed this will have a positive impact on the economy when they are able to spend again. 
With continued government support added to this, there are positive things in sight again and economists are sure of a strong bounce-back.
About Hayvenhursts Accountancy Services
Planning for your business is crucial to surviving the Coronavirus Pandemic and more than ever businesses have to think on their feet, adapt their services and have a robust business plan for 2021 and 2022. 
It is really important that you take time away from your business worry's and for some, stress and evaluate where you are, where you need to be, what you can change and what you can do to make this happen is absolutely vital.
Hayvenhurst Accountancy Services can help you with your finances and your financial planning. We have an excellent understanding of the grants and schemes available to businesses and will advise you which ones could benefit you at this time. We can review your business plans with you, looking at the financial aspects and come up with different ideas and solutions that could help both in the short and long term. 
At Hayvnehursts we don't just offer a standard accountancy service, we get to know you and your business and we will work alongside you to ensure you have all the accountancy and business services that you need.
Our experienced and qualified accountants will take time to understand your business, you and your needs and provide a service which is individual to you. We will work with you to identify savings, tax breaks, improved cash flow and business efficiency through our defined and relevant accountancy and business services, establishing savings and opportunities which will improve your business's short and long term financial's.
Our commitment is giving you good, honest, sound and understandable accountancy and financial advice and we will work with you in the way that suits you.
Our Accountancy Services
Accounts Preparation

Audits

Bank Accounts

Book-keeping

Book-keeping Health Check

Business Growth

Business Health Check

Business Planning

Business Valuations

Commercial Property

Company Formation

Company Secretarial

Contractors and IR35

Furlough Advice

Inheritance Tax Planning

Management Accounts & Information

Management Systems

PAYE Health Check

Payroll & PAYE Returns

Personal Tax

Property Tax

Raising Finance

Reduce your SRA Audit Costs

Registered Office

Strategic Planning

Tax Disputes

Tax Enquiries & investigations

Tax Planning

Tax Returns & Self-Assessment

Trusts

VAT Deferrals

VAT Temporary Reductions

VAT Health Check

VAT Planning & Disputes

VAT Registration

VAT Returns
Contact us today and find out how we can help and support you to future-proof your business.
Hayvenhurst Accountants COVID-19 STATEMENT
As a valued member of our community, we appreciate the trust you place in us to make sure all your critical services continue. 
We are committed to an evidence-led and common-sense approach to containing the coronavirus outbreak and mitigating its impact on employees, customers and our wider business operations.  
Please be assured we are prepared for our services to continue as normal. We have business continuity plans in place to minimise the risk of infection and make sure we can continue to deliver a business-as-usual service to our customers should an infection occur at an office. These include implementing clear guidelines for employees, providing support and advice for anyone who needs to self-quarantine, and issuing guidance on following safe hygiene practices across the organisation. 
The wellbeing of our staff and clients remains our priority and we have put in place reasonable and proportionate arrangements to protect our colleagues and clients. These include:-
Clients are advised not to attend our offices, if not essential. Instead, we are arranging telephone or video conferences online

Elderly and vulnerable clients should not attend our offices at all

Home or office visits will only be made if urgent and assessed on a case by case basis